The Secretariat
Meet our brilliant minds
Elizabeth Mwangi-Oluoch
Chief Executive Officer
---
Elizabeth holds a Post Graduate Certificate in Project Management and a Bachelor of Arts in Human Resource Management from Kenyatta University. She has over seven years' experience working with professional business membership associations. Elizabeth has previously worked with the Institute of Quantity Surveyors of Kenya and the Association of Professional Societies in East Africa. Her core areas of interest are in programmes management, advocacy and policy reforms.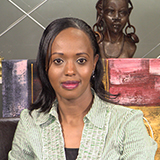 Maryanne Mbogo 
Membership Relations Officer
---
Maryanne holds a Bachelor's degree in Communication and a Master's degree in International Relations and she has over 5 years' work experience across the media and public relations fields as well as the NGO sector. Her passion lies in public relations and media relations and she promises to increase KPDA's membership as well as maintain at least 70% of the current members of KPDA.
Wilson Busaka
KPDA Research, Administration and Membership Intern
---
He holds a BSc. in Applied Statistics with Computing and has interned in the past as a data analyst. He intends to grow his career as a certified financial analyst.