KPDA CELEBRATES INTERNATIONAL WOMEN'S DAY 2022 WITH KEY INSIGHTS FROM: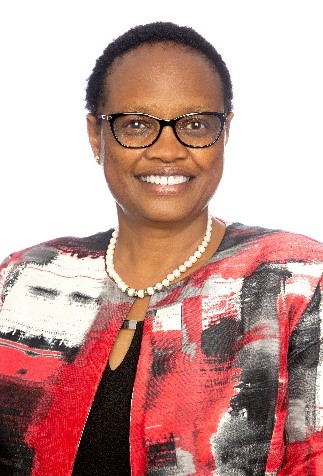 Bernadette Gitari
Regional Manager
Royal Institute of Chartered Surveyors (RICS)
"She has a career spanning over 4 decades, impacting lives and livelihoods while being a great source of inspiration to many women starting up in the build industry. Bernadette Gitari is a trail-blazing force to reckon with in the industry. Learn more about Bernadette's her passion for equality and inclusion and her love for Tina Turner as KPDA celebrates the real rock stars in Real Estate"
Why did you choose to work in real estate and what do you like most about your job?
I choose the course as I thought it had something to do with Economics which I loved. But as it turned out, the course was more about Land and Property than Economics.
At one time in my career, I was offered a great opportunity to be the head of sales and letting department. However, one of my clients, a lady, who also knew me as valuer, one day came to my office to list a property for letting. She looked at me and said to me 'Bernadette this is not your job, you are too intelligent for that, but it is up to you to decide.' I thought about her words, and after a few days of deliberations, I turned down that offer to be the head of the department and decided to be a valuer instead. The company recruited someone else. I have never regretted my decision.
The best aspect of my job is that I am a respected locally and globally within the built environment professional. I have met very many people in my career who, apart from being my clients, have mentored and challenged me to succeed in my career. I have travelled to countries in four continents. In my present role I am in touch with most of the presidents/chairpersons of the built environment in Sub Saharan Africa and a network of colleagues in five continents.
Is there a perception out there about what women in real estate are like?
When I started my career 40 years ago there were very few women professionals in the real estate. Those who were there were mainly estate agents (letting and selling agents) and who in many instances were secretaries who were promoted or ventured into real estate as agents. I remember whenever I visited a property with my boss I was always referred to as his secretary or a handy assistant meant to take the measurements for him.
However, after the gains from the Women Liberation event in Nairobi in 1986 that lobbied for equal opportunities in education, the provisions of the 2/3 gender rule in the new constitution and the efforts of built environment institutions to promote women in real estate, the public have come to accept and respect women professionals in real estate.
Which women inspire you the most?
I am inspired by Tina Turner the music star. I watched her movie What's Love got to do with it. The scene from the movie where Tina Turner gave up all the wealth she had accumulated with her husband in exchange for her name only, inspired me. My name is everything to me and is what has made me who I am today. Anyone can take everything from me but not my name.
In Kenya, Hon Mrs Murugi Mathenge-an all-rounder in real estate, gives me so much inspiration. She has been an Estate Agent, Valuer, Property Manager, Member of Parliament a minister and now a Commissioner at the National Land Commission. I just admire her energy.
What do you think about the future of women in the real estate industry in Kenya?
There are plenty of opportunities for women in the field of real estate. However, it would be good for women to think outside the box and widen their scope by looking outside of real estate and focusing on the wider aspects of the Built Environment Profession. Explore international qualifications that would offer global opportunities and place the Kenyan woman professional on the global map, may it be in academic or in the corporate world.
Are you working on any exciting new projects now? How do you think that will help people?
As the RICS Partner Development and Public Affairs manager for Sub Saharan Africa, my role is to engage with stakeholders in the built environment who can partner with RICS in all areas of the built environment especially international standards adoption and training.
I also promote thought leadership themes and two of the themes close to my heart are Diversity Equality and Inclusion and Futures. The latter relate to the future of the profession. Africa has the highest number of well-educated young people who are jobless. I work with built environment institutions universities and corporates in SSA to promote the AssocRICS which would give the young people a reasonably priced global qualification which can open doors for them in the built environment profession outside the country.
On international women's day, what's a very practical tip for women just starting their real estate careers?
Integrity and hard work are the key to a successful career in real estate.
Have a good name such that when your name is mentioned everyone wants to deal with you.
Invest in yourself through continuous professional development in emerging areas of the real estate industry.
Join and participate in networking forums and mentorship programs to learn from others.